Energy saving, anti-pollution, pollution-free, green packing momentum!
Collective packaging challenges the tradition and occupies an important position in transport packaging. Various transport trays lay the foundation for the collective packaging.

In order to keep the small items stable and safe on the trays, it is easy to move. In practical work, packing materials such as packing tapes, ropes, and wrapping films are commonly used. After use, a large amount of packaging waste is generated.
The protagonist we introduce today is: Emerging green packaging materials, green packaging assistants - pallet anti-slip agent. Due to the quick and safe transport of goods after using the pallet anti-skid system, pallet anti-skid agents have been widely used around the world. This kind of product, which can make the goods on the tray tightly combined and prevent slippage, has been introduced into China by Shanghai Xiongzan Trading Co., Ltd. (original Shanghai Filtration & Trade Co., Ltd.). The product was invented in South Korea and patented in Korea and the United States. It is now available in North America and Western Europe.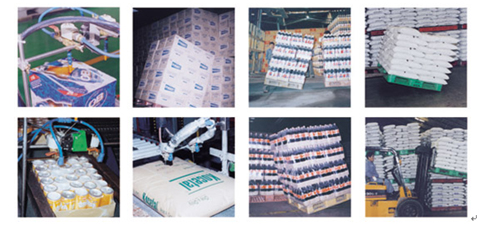 The demand of the market points the direction for the development of the product. Experts predict that the average annual growth rate of China's logistics industry in the next 10 years will exceed 20%. The application of trays will certainly be unprecedentedly developed, and the market prospects for pallet anti-slip agents are very broad.
The pallet anti-slip agent has many advantages compared with other packaging materials;
1. Green Environment The pallet anti-slip agent is a kind of non-toxic, non-polluting water-soluble liquid polymer that uses hydrogen bonding. Unlike packaging materials such as packing tape, rope, and wrapping film, it will not cause environmental pollution.
2. Wide range of applications Widely used in cartons, paper bags, plastic bags and other packaging materials and all cardboard (corrugated paper, kraft paper) and plastic (plastic film, plastic bags) made of boxes or bags.
3. Simple operation Before putting the box or bag on the tray, you can manually or mechanically and automatically apply the pallet anti-slip agent to the goods.
Source: China Packaging Network
Laser Marking Machine,Laser Coder,Pvc Pipe Printer
Semi-automatic Filling Machine,Liquid Filling Machine,Inkjet Printer Co., Ltd. , http://www.nsfillmachine.com