Liquid digital printing inks are often used for ink jet printing. The type of ink is related to the structure of ink heads of ink jet printers. The ink heads can be divided into two types: thermal compression type and piezoelectric type. Piezoelectric type is divided into high precision and low precision, such as EPSON. The inkjet head is a high-precision product, while Xaar and Spectra's inkjet heads are less accurate, with the former mostly using water-based inks and the latter mostly using solvent-based inks.

1. Composition and performance of water-based ink

Water-based inks are mainly composed of solvents, colorants, surfactants, pH regulators, driers, and other additives. For hot-press inkjet printing systems, only aqueous inks can be used; on-demand ink-jet printing inks are also commonly used. Water-based ink.

(1) Colorant

Dyes are mainly used as the colorant for water-based inks, because for aqueous inks, the dyes can be completely dissolved in a solvent and fuse well with the solvent in the form of macromolecules to exhibit good colorability. Such as azo dyes, metal complex dyes, naphthol dyes, anthraquinone dyes, indigo dyes, quinoneimine dyes, cyanine dyes, quinoline dyes, nitro dyes, nitroso dyes, benzoquinone dyes, naphthoquinone dyes A phthalocyanine dye or a metal phthalocyanine dye, with an oil-soluble dye being particularly preferred.

For pigmented water-based inks, because the pigment is insoluble in the solvent, it is necessary to ensure its dispersion stability in the solvent and the color effect also requires other components and higher technical requirements. Pigments are divided into inorganic pigments and organic pigments, including carbon black, chrome red, molybdenum red, chrome yellow, titanium yellow, chromium oxide, Viridian pigments, titanium cobalt green, ultramarine blue, cobalt blue, diketopyrrolopyrrole Indole, quinone, benzimidazolone, indenopyrimidine, and azo, phthalocyanine, strychnine, perylene ketones, sulfhydryls, quinophthalones, metal complex pigments, and the like.

The pigment or dye may be used alone, or two or more kinds of pigments or dyes may be used in combination. The average diameter of the pigment particles is preferably 50 to 500 nm, and the content thereof is appropriately selected depending on the use of the ink or the printing property, and is the total weight of the ink. 1.0% to 10.0%.

(2) Solvent

Water-based ink solvent is generally deionized water as the main solvent, and then add an appropriate amount of organic solvent, the organic solvent content is 0.1% to 1.0% of the total weight of the ink, mainly using the following categories.

Polyhydric alcohols: ethylene glycol, propylene glycol, butanediol, diethylene glycol, triethylene glycol, 1,2-pentanediol, 1,2,6-hexanetriol, thiodiglycol, polyethylen Diols and polypropylene glycols.

Glycol esters: Glycerol, polyalkylene glycols, lower alkyl esters of polyhydric alcohols.

Alcohol amines: diethanolamine, triethanolamine.

Amides: dimethylformamide, dimethylacetamide, dimethyl sulfoxide and sulfolane.

Ketones or ketoalcohols: acetone, cyclobutanone, N-methyl-2-pyrrolidone, N-(2-hydroxyethyl)-2-pyrrolidone, 2-pyrrolidone.

Ethers: tetrahydrofuran, dioxane, ethylene glycol monomethyl ether, ethylene glycol monoethyl ether, diethylene glycol monomethyl ether, diethylene glycol monoethyl ether, diethylene glycol monobutyl ether, triethylene glycol monoethyl ether Triethylene glycol monoethyl ether, triethylene glycol diethyl ether, triethylene glycol dibutyl ether, tetraethylene glycol dimethyl ether, and tetraethylene glycol diethyl ether.
Outdoor Aluminum lounger furniture to make your enjoy your life in the poolside or hotel.The powder-coated aluminum frames are stackable for space-saving storage.
With waterproof UV resistant fabric, make you feel super comfortable.
Easy to clean and keep, outdoor aluminum lounger furniture save your labor keep cost.
· Traditional forms with a spacious, inviting scale
· Rust-resistant powder-coated aluminum frame.
· Comfortable 30 density cushion foam.
· Secure tempered glass for dining table and coffee table.
· Waterproof fabric for cushions.
Outdoor aluminum furniture with high quality and long time guaranty.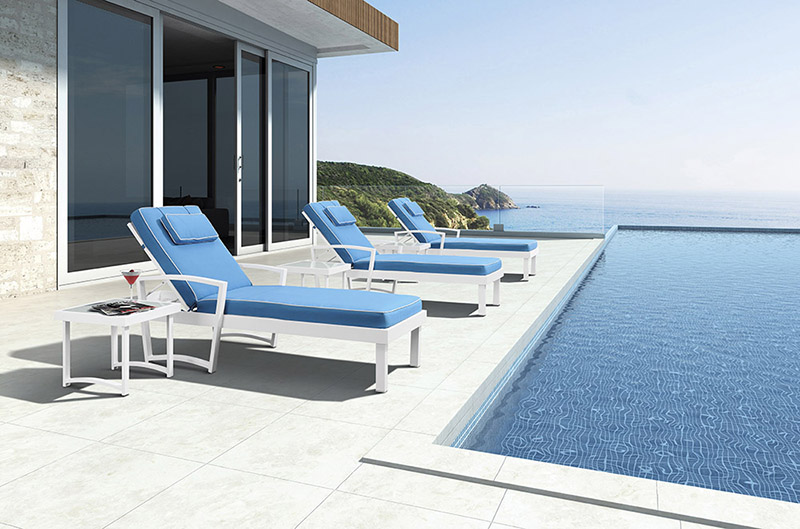 About us:
1.our factory is more than 20000 square meter big.
2. Our showroom is about 800 square meters.
3. we have professional sale team and more than 200 workers.
4. The capacity of our factory is 60 containers/month.
5. we attended CIFF furniture fair and canton fair.
Welcome your further inquiry for further discussion, also welcome to visit our factory to talk face to face.
Aluminium Garden Lounger Furniture
Wicker Aluminium Garden Lounger Furniture,Patio Aluminium Garden Lounger Furniture,Rattan Aluminium Garden Lounger Furniture,Chaise Lounger,Lounge Furniture
Golden Eagle Outdoor Furniture Co., LTD. , https://www.geoutdoor.com